Submucosal fibroid is one of the most complicated forms of uterine fibroids. These fibroids grow within the submucosal layer, that is, the uterine lining. These fibroids are also called leiomyomas.
Symptoms of submucosal fibroid: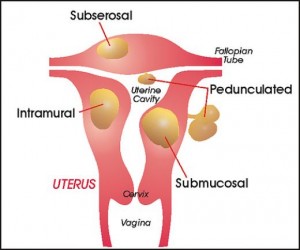 Most women diagnosed with submucosal fibroid may not initially show any prominent symptoms. These fibroids are no hindrance in performing daily activities, so people diagnosed with submucosal fibroid can lead their life very much the normal way. But sometimes the fibroids may become real bad. Those that suffer severe symptoms of fibroids should take immediate medical help to control / remove fibroids. Following are some symptoms of submucosal fibroid:
Uterine cramps and spasms
Excessive pain similar to childbirth or labour pain.
Heavy bleeding during menstrual periods
Prolonged menstruation cycle
Backaches
Infertility
During pregnancy it may cause bleeding and premature birth.
Causes of submucosal fibroid: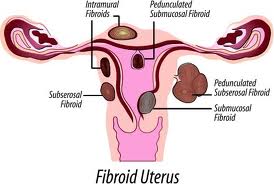 Submucosal fibroid tumors start to grow after the puberty. If the level of estrogen hormone increases then it can in the future lead to fibroids formation in a women's body. Similarly, at the time of pregnancy when a women's body has high estrogen level the chances of developing Submucosal fibroid tumors is enhanced. And during menopause when the estrogen levels start to reduce these fibroids also shrink.
Treatment of Submucosal fibroid:
When the symptoms get severe you need to go through treatments. From medications to surgery there are many options to remove the fibroids. Doctors basically prescribe hysteroscopy for the treatment of submucosal fibroid. In this method of treatment a thin tube and camera is inserted into the uterus through the cervix in order to identify fibroids. An operative hysteroscopy enables to remove small fibroids. Though it seems that hysteroscopy is an effective way to remove symptoms but this is quite risky a method which may cause infection, bleeding, and allergic symptoms. It can cause perforation of organs like bladder, colon and uterus. And most of all as hysteroscopy does not treat fibroids from its roots; even after hysteroscopy is performed there remains chance of fiboridal relapse. Hysteroscopy is popular in European countries. There doctors recommend immediate surgery as they think its better not to wait much for the fibroids to shrink.
So before going for medications or surgery you may consider these following natural treatments
Dietary modifications:
Avoid oily, fried and processed foods.
Eat low-fat foods.
Switch over to the foods like raw vegetables and fruits that are rich in fiber content. So it's necessary to keep fresh fruits and vegetable salads in your daily diet chart.
Rich and fatty foods overload the liver which slowly turns inactive. And it is the liver that is responsible for metabolizing estrogen from the body. Therefore when the liver can't function effectively excess estrogen is stored in your body. This helps to fibroids grow up.
Herbs work wonder to remove fibroids. Milk thistle is an effective herb to better liver functions. It repairs the liver and cleanses toxins from eth body. Like the other herbs milk thistle also takes time, at least 3 to 4 months to show good results.
You can use essential oils to cure mucosal fibroids. Essential oils like Flax-seed, borage have got essential fatty acids. These are helpful to reduce the inflammation due to fibroids.
Many women take the help of sitz bath to lessen the pain caused by inflammation.
Though you can get overnight results by surgery, natural treatments are much safer ways to remove submucosal fibroids. It's better to look for natural remedies as there is no fear of side effects, no organ removal, no need of anesthesia, and there is no risk of infection or allergies.
So if you are determinate to avoid surgery which may lead to infection, it's better to look for holistic way to treat submucosal fibroid. Log on to FibroidsMiracle.com to follow an effective program to control your fibroids. Many sufferers have got rid of their fibroids following the extensive natural therapies discussed in this site. FibroidsMiracle.com will help you learn ways as to how you can control fibroids growth in your body. Follow it for about a month or three and you will be amazed to see the results.